Julius Caser's play-thing.
Cleopatra and Caesar
History and Shakespeare have recounted ad nauseum the sordid love affair between Caesar and Cleopatra; however, his unexpected assassination forced her to seek help in safeguarding her throne. She chose incorrectly; Anthony was not the one. His arrogance had brought the ire of Rome. Anthony believed Alexandria to be another Rome, even choosing to be buried there next to Cleopatra. Octavian rallied the citizens and Senate against Antony, and when he landed in Egypt, the young commander became the master of the entire Roman army. His victory over Antony and Cleopatra awarded Rome with the richest kingdom along the Mediterranean Sea. His future was guaranteed. The country's overflowing granaries were now the property of Rome; it became the 'breadbasket' of the empire, the 'jewel of the empire's crown.' However, according to one historian, Octavian believed that Egypt was now his own private kingdom, he was the heir of the Ptolemaic dynasty, a pharaoh. Senators were even prohibited from visiting Egypt without permission.
image from: ancient.eu
2. Drawing of Cleopatra
The last of ancient Egypt's pharaohs Cleopatra VII- was born in the country's capital, Alexandria in 69 B.C. Nothing specific is known about her life before she entered into a power struggle for the Egyptian throne at age nineteen or twenty ( in 49 B. C.). However, it is possible to reconstruct the political situation, family background, structure, and physical and cultural settings of the era of her youth. These elements provide key clues to the people, city, palace, lifestyle, political, and family problems that she knew as a child.
Image from: glogster
3. Statue of Cleopatra VII at the Rosicrucian Egyptian Museum.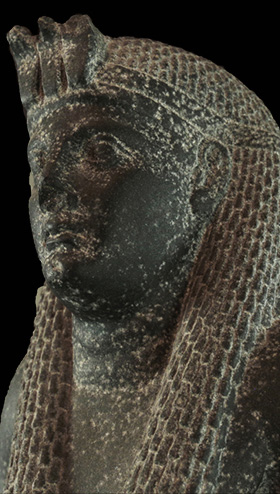 One of the most well-known people in history, Cleopatra VII was the last pharaoh of Egypt. She was a Macedonian Greek who ruled Egypt for nearly three decades. Known for her intelligence, she was her father's favorite. She gained the throne at age eighteen and was intended to rule alongside her ten-year-old brother, Ptolemy, as co-regent. Soon thereafter, advisors in the royal palace conspired against Cleopatra and she was forced to flee to Syria. She secretly asked Julius Caesar (100-44 BCE), the Roman general and politician, for help when he was in Alexandria searching for Pompey.
4. Carving of Cleopatra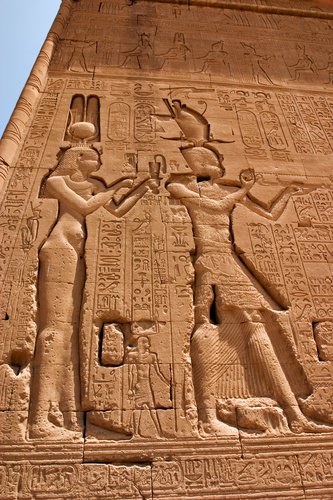 The only carving of Cleopatra, at Dendera Temple.
image from: planetware
5. Leading a fleet in a Naval Battle
Cleopatra eventually married Mark Antony and had three children with him, but their relationship also spawned a massive scandal in Rome. Antony's rival Octavian used propaganda to portray him as a traitor under the sway of a scheming seductress, and in 32 B.C., the Roman Senate declared war on Cleopatra. The conflict reached its climax the following year in a famous naval battle at Actium. Cleopatra personally led several dozen Egyptian warships into the fray alongside Antony's fleet, but they were no match for Octavian's navy. The battle soon devolved into a rout, and Cleopatra and Antony were forced to break through the Roman line and flee to Egypt.
Image from: history.com
6. Cleopatra the seductress
How did it happen that Cleopatra became the last great ruler of Egypt? What was her strength? According to the Plutarch (Life of Antony, XXVII.2-3)"For her beauty, as we are told, was in itself not altogether incomparable, nor such as to strike those who saw her; but converse with her had an irresistible charm, and her presence, combined with the persuasiveness of her discourse and the character which was somehow diffused about her behavior towards others, had something stimulating about it. There was sweetness also in the tones of her voice; and her tongue, like an instrument of many strings, she could readily turn to whatever language she pleased…".
Image from: ancient-origins
7. Cleopatra Vii from Cairo Museum
8. Statue of Cleopatra
The female statue does not come, as we long believed, from the "Tomba di Nerone" on the Via Cassia (excavations of 1784), but from the area of ​​the Villa dei Quintili ("Old Rome"), along with the Via Appia (excavations of the Pezolli del 1783-1784). The original Cleopatra's head – ancient but not pertinent – has been exhibited in the Gregorian Profane Museum (inv. 38511) since 1986 and has therefore been replaced by a cast; in the statue also the arms and feet are integrated. The female statue – presumably coming from a sepulcher of the Appian Way, at the Villa dei Quintili – is dressed in a long peplum, with tocketing (kolpos) on the sides, covered by a cloak.
image from: ancientrome.ru
9. Cleopatra's Sister!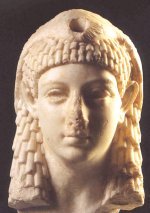 A princess overthrowing her father in a shrewd, yet dangerous bid to take the throne? Ancient Egyptian family drama is in full force in the tale of this supremely badass woman.
Image from: steemit
10. Statue of Cleopatra
In this ancient Egyptian Cleopatra piece, note that the headdress is comprised of a feather design, and also the striking features have some similarity to Cleopatra Powhatan.
Image From: americanindiansandfriends
11. Cleopatra as an Egyptian Goddess
Basalt, the second half of the first century BC. Hermitage, Saint Petersburg
Image from: Wikipedia
12. Real-Cleopatra
Image from: oritkaye
13. Cleopatra's Obelisk
Cleopatra's Needle is the name shared by three ancient Egyptian obelisks – one in New York City, one in London, and one in Paris. However, each comes from a different Egyptian site and none may have been built in honor of Cleopatra. Although often overlooked, each monument has volumes to say about history, both ancient and modern.
Image from: ancient-orgins
14. A bust of Cleopatra
With the uncovering of one of the greatest ports in Egypt before even the founding of Alexandria, called Thonis-Heracleion. This city was a sunken port-city that had served as the gateway to Egypt in the first millennium BC. The port city, situated 6.5 kilometers off today's coastline, was one of the biggest commercial hubs in the Mediterranean.  Looking at some of the relics you get an idea on how grande of a life they lived.
image from: jrcolombianemeralds